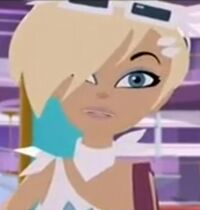 Zera is a girl who appears in "Back by Unpopular Demand" who was, according to BB, was the prettiest and most popular girl at BB's school. When she introduces her self in the episode she says that since leaving school she's travelled around the world and is now a model.
BB tells her that she's now in Freefonix but Zera doesn't listen to Freewave music but seems to be a fan of BCD. Even though they are no longer in school, BB seems to really want to impress Zera still which leads to her temporary reforming the band.
Related Pages
Edit
Ad blocker interference detected!
Wikia is a free-to-use site that makes money from advertising. We have a modified experience for viewers using ad blockers

Wikia is not accessible if you've made further modifications. Remove the custom ad blocker rule(s) and the page will load as expected.