The recording studio is of course inside ComaCo. This is where Mya has bands play to record their albums. Mostly prepsie bands such as BCD record in there. It features in a few episodes including Back by Unpopular Demand, Land of The Lost and Mr Start's Opus.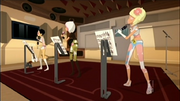 Ad blocker interference detected!
Wikia is a free-to-use site that makes money from advertising. We have a modified experience for viewers using ad blockers

Wikia is not accessible if you've made further modifications. Remove the custom ad blocker rule(s) and the page will load as expected.