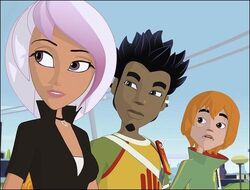 This page is a list of episodes of Freefonix, a CBBC television series following the adventures of the band Freefonix as they protect Los Bosmos with the power of the Thirteenth note.
The series launched on 4 January 2008 and aired on children channel CBBC's on their daily segment on BBC One for thirteen weeks.
The rest of the series, which consists of 40 x 24 minute episodes, along with the first thirteen, broadcast over the winter period on weekends on CBBC from 8 December 2008 into the January of 2009.
Episode list
Edit
Ad blocker interference detected!
Wikia is a free-to-use site that makes money from advertising. We have a modified experience for viewers using ad blockers

Wikia is not accessible if you've made further modifications. Remove the custom ad blocker rule(s) and the page will load as expected.