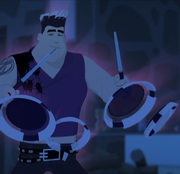 Hitt's drum kit consists of four floating drums and is a very powerful weapon. Hitt may be a bit simple but he's very strong and can really blast out the sonic power with his drums. His drumsticks also have sonic powers in them; when he drums on the ground he can make the earth shake or even drum a hole in the roof of a building as he did in Risky Music Business on top of The O.
Ad blocker interference detected!
Wikia is a free-to-use site that makes money from advertising. We have a modified experience for viewers using ad blockers

Wikia is not accessible if you've made further modifications. Remove the custom ad blocker rule(s) and the page will load as expected.